http://wanderlust48.tumblr.com.:
) see you!
Edit- update, ok there are now SOME postings here, but I'm leaving this here as I'm likely more active on Tumblr.
I should say I live in Singapore, so if anyone is in my corner of the world, come and say hello? :)
Hi, in case you're wondering.. That's right, there are no postings on this LJ. I opened the account just to read all that lovely fanfic out there, and comment! You can find me on tumblr though!
Lemon milk chicken, courtesy of Jamie Oliver and thanks Demi for introducing me to it! I hope your own efforts turns out better, mine was real tender but not as tasty as I'd hoped.

The Wan doth think he is wise, but the wise man knows himself to be a Wan
Which work of Shakespeare was the original quote from?
Or

To be, or not to be: that is the Wan.
Which work of Shakespeare was the original quote from?
A silly quote, thanks to kitty_fic!
Tbh, I bought the second ticket because I was terrified I'd fly all the way and Colin would be sick or something :( so it was a back up. After the first watch and given how talky it was, I wasn't sure I would last a second round. But I DID, and I enjoyed it!
More under the cut for spoilers and general length ( I warn you I go and and on!)
(
Read more...
Collapse
)
Since it was matinee, no stage door for me.
My stage door attempts the rest of the week yielded no Colin :( but it was a fab experience and I am very blessed and thankful. It was a week of fangirl meets too :) - met a fellow Merlin fan Jessica from San Francisco on Thurs, and had a drink with
candymacaron
on Saturday (woo hoo! I can't believe we had the guts to squeeze into a pub by ourselves and order drinks! :))
If I have more energy and get my RL stuff done, I might talk about Matthew Bourne's Swan Lake at Sadler Wells, which I snagged a ticket for like 2 days before the event ( when It was meant to be completely sold out!!). I really love London for its theatre and dance* hearts in eyes *
More verbosity from me- its what I gleaned from second watch of Mojo, the matinee of Thursday 5 dec.
amphigoury
for coming down to fangirl and watch with me, it is SO great to watch with a fellow fan. Plus, now I have another pub place to eat around central London :)
so, the SHOW!! Under the cut for spoilers!
Sorry so long winded, it's also for my own remembrance.
(
Read more...
Collapse
)
Stage door:
i went on Monday 2 dec night, and the stage door was the most civilized thing ever. The play ended at 10:05 and the actors were out and signing from 10:15 onwards, and by 10:30, security announced that no one else was coming out. Because do the wide frontage set up, the waiting crowd was only 2 people deep- a far cry from the scrum I saw at Tempest! Everyone was quiet respectful, only increase from murmur was when Rupert came out. It was apparently Bredan's birthday so some fans wished him. I was next to some guys who passed Brendon a take out receipt to sign, LOL and they all joked with him about in :)
I count myself lucky that Rupert, Tom, Daniel and Brendan all came out. I didn't want signatures and left that to Amph, while I focused on taking photos- quite challenging on the light and also as they were looking down most do the time. Sadly, Colin didnt come out but I might try again. I didn't feel like loitering around that night, who knows if I had he might have come out later.
And... That's it? \o/
So I finally got to see MOJO!! Big thanks to
Current Location:

London!!!

Current Mood:

chipper
camelittle
told me it was average for this time of the year. Somehow it became a 5-liner comment fic before we had to leave Chatzy :(
Since it's mean to leave poor Merlin shivering there and cruel to leave us spinning in the wind wondering what happened, here's our first few lines. If anybody would like to continue it, go ahead, posting under comments, I'll come by to poke it along too.
Meanwhile, I'm going back to packing for London * adds hats and gloves to already-stuffed suitcase*
=================
It was a cold, wet, and blustery day in Camelot.
You're not wearing enough clothes,
Merlin,
" Arthur growled, his breath hot on Merlin's exposed cheek.
"You're not helping, your armour's cold!" grumbled Merlin, but not moving away.
A gust of wind chose that moment to lift a lock of Merlin's hair and expose one ear to the elements. Icy tremors fingered deliciously up his spine when Arthur nibbled gently at the lobe.
Arthur's tongue left a wet trail in its wake. When Merlin said shakily, "It's freezing!", Arthur kept his mouth firmly there.

==================
I was asking about london weather and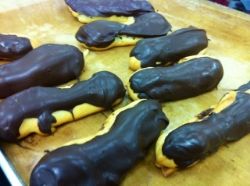 After years and many mistakes, I've finally managed to make Choux pastry today. Three times for 4 different types. Now I know how Masterchef/ The Great British Bake-Off contestants feel like. But I bet they don't their own washing-up. #achievement #better than my pieces of paper.
Below the cut - some stuff I've read and enjoyed.
(
Read more...
Collapse
)
Current Mood:

happy
BUT at least I've got my T-shirts down to to less than 80 now ( no, don't ask how many there were before. Er, no that's only short sleeves tees. Can you say Shopaholic??)
Er.. But I just
ordered another one
!
It's the Bandit King, sort of Merlin-eque one.
Check out
teprometo
post
http://teprometo.livejournal.com/125845.html
Elsewhere... My already wavering resolve to not go back to London this year has been busted by the Mojo news. Between saving for a new car and watching gorgeous brunette guys on stage, how can the car compete? My bank balance doth protest.
September already?? I'm loving being away from office, and trying not to think about what happens in January ( sound of jail door closing again). My colleague tells me they are looking forward to me returning, like the LOTR scene where Gandalf comes back. I didn't say " You're comparing me to an old wizard??" I should be flattered.
Or maybe I have too few places to wear them too :)
So I finally extricated myself from PL to read paperback books, which is nice once In a while!
From the Eagle fandom, I've gained a passing interest in Roman stuff. Which lead me to
Rosemary Rowe's series
of historical fiction. I've finished one in an afternoon, and might look up some some. The Germanicus Mosiac was a pretty good read, it's from the POV of a freedman who builds mosaics but keeps getting dragged away by his Roman patron to solve murders and crimes ( for free!) There's tonnes of stuff about Roman society and culture built into it, and the writing is snappy- good for impatient readers like me!
I'm also moving on in the
Rivers of London series
by Ben Aaronovitch, formerly working on Waterstones Coventry Garden branch and way before that a scriptwriter on the Blake 7 series. Which explains why he writes cracking dialogue and is really really funny. What I really love is all the London locations and details, I can imagine walking down some of the streets he describes. His protagonist is a copper on the Force who discovers he can do magic, and gets apprenticed. It's been described as " what would happen if Harry Potter meets The Bill", except that Peter Grant isn't white and a whole lot snarkier. I just finished Moon Over Soho ( book 2)- they talk about JAZZ MUSIC, OMG!!! I heart this series!!
2 months now of not being at the office. Lets see how long before I go stir- crazy and get cabin fever.
Anyone got any other good books to rec? Someone passed me a Percy Jackson title- no harm reading, right? Good to know popular culture and all that.
How's everybody??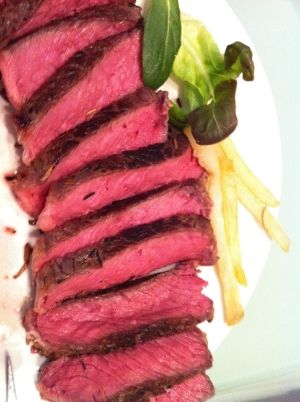 More details on this and watching old old, Star Trek under the cut!
(
Read more...
Collapse
)
And Singapore is another year older. We are so very lucky.
And the most significant thing about my long weekend.. Is that my experiment with sous vide meat worked!!
Current Mood:

excited